by Dave Gooden on 05/31/2011
Disclosure 1: I work in the vacation rental industry. While my company specializes in regional, recreational vacation homes, not metro rentals – there is an obvious conflict.
Disclosure 2: This is an opinion piece. This post is just my opinion along with some evidence to support it. Judge for yourself.
Yesterday AirBnB announced that they raised $100M at a $1B valuation. This is a huge, huge accomplishment – but a lot of entrepreneurs are probably asking how they did it. Was it their awesome design? Excellent idea? Was it their uncanny business acumen? Just dumb luck?
My Answer: Craigslist Spam!
I believe AirBnB used multiple gmail accounts to spam craigslist and grow their site to a one billion dollar valuation.
Back story: A year and a half or so ago I was looking into the amazing growth of AirBnB. As disclosed above, I work in the vacation rental sector and when a competing company comes on my radar, I always do my due diligence. In my AirBnB research, I didn't find great SEO results or a gazillion followers on Twitter or any massive advertising spends on Google or Facebook. I looked everywhere but I couldn't find any rational or traditional reasons for this type of growth. All of these AirBnB users can't be coming from tech blogs, can they? Word of mouth? I didn't think so. After thinking on it for a day or two, only one possible answer popped into my head: "These guys are black hats!"
Following my hunch, I started snooping around the place that all good black hats go to make money and get free traffic – craigslist. Craigslist is one of the few sites at massive scale that are still easily gamed by talented and not-so-talented black hat marketers. It is a literal gold mine for black hats that learn how to exploit its millions of users and curtail its terms of service. How do I know this? I was once a black hat myself. It isn't something I am proud of – but it was a very important and very educational part of my journey (I will discuss it in a later post).
Please remember, I am not judging anyone here, I am just reporting my findings because I believe it will help other entrepreneurs.
Back to my hunch. To prove my theory I needed to setup a "mouse trap" on craigslist, so I posted a few vacation rentals using craigslist's hidden (anonymous) email address option and I made sure to setup the ads to clearly state that I do NOT want emails from commercial interests. A couple of hours later – BOOM! As expected, I received an email inquiry from one of my cl listings…but it wasn't from AirBnB. The email I received was from a "young lady" telling me about the upside of AirBnB.com (growing site, growing traffic, etc..) and how she really liked my property and wanted me to check out the site. She was nice enough to included a direct link with no tracking code to AirBnB.com's homepage. I was 99% sure that the email proved my theory and uncovered AirBnB's black hat supply-side growth strategy…but I needed to be 100% sure.
Again, the email I received was from "girlsname04@gmail.com," not AirBnB. Maybe she was just a girl that was totally excited about AirBnB and I didn't uncover anything. There was only one way to find out so I decided to push my "investigation" to the next level. It was time to dig into the closet and pull out my old, faded, dusty black hat. It still fit.
I spent the next weekend building a new website, rounded up some black hat software (craigslist email harvester, mass mailer) and emulated the marketing initiative that I believed AirBnB was using (elementary stuff).
After harvesting email addresses (I only grabbed real email addresses, not anonymous craigslist addresses) I did one email blast to people that were advertising vacation rentals on craigslist. I skipped over the other categories that are directly related to AirBnB's business model because they didn't fit with the test site I built. My results: 1,000+ vacation rental owners signed up and listed their properties on my test site.
Now that I had 1,000 new members, I took it upon myself to do them a favor and advertise their vacation rentals on craigslist. The first week I added one (1) listing to craigslist and received the following email within 12 hours: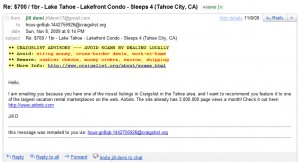 Week two I upped the ante and advertised two (2) listings on craigslist. I received the following emails:
Week three, for good measure, I threw one (1) more ad up on craigslist and received the following emails:
My findings: After posting four ads on craigslist in three weeks, I received five identical emails from two young ladies who are raving fans of AirBnB and spend their days emailing craigslist advertisers.
When you scale a black hat operation like this you could easily reach tens of thousands of highly targeted people per day…and quickly gain 60,000 members on the supply-side, which again, is the hardest and most important part of growing a market place. I am pretty sure that AirBnB isn't the only company that has used this strategy/technique, but I think they are the first to turn it into a one hundred million dollar investment at a one billion dollar valuation.
I know that by expressing my opinions here I am exposing what is now a billion dollar company (we are talking YouTube numbers here)…and I might piss off some powerful people by sharing my beliefs. I am shedding light on this information only because I believe it will help other entrepreneurs figure out what's right and what's wrong when they are at the early stages of growing their company. Some very famous investors have alluded to the fact that they look for a dangerous streak in the entrepreneurs they invest in…and while those investors will never come out and tell you what they mean, this kind of thing is probably what they mean.
Lastly, I am not saying that these black hat methods are the only thing that led to their success. I believe this strategy played a vital role in the growth of AirBnB, but these guys are obviously very smart and they work their asses off, too.
Edit: I removed the domain name and url of the test website. It has been dormant for more than a year. It was a weekend project that offered free listings and no advertisements.
This has gotten a lot bigger than I expected or wanted. My intention was to pull back the curtain on a successful startup and give some other entrepreneurs a sneak peak at the play book they were using. That's it.
On twitter: @davegooden
Added 6/15/2011
OK. Since this story has finally died down, I am going to do what any smart marketer would do…take advantage of the incoming one-way love this article received.
If you are interested in what I do, I run a lake property website and also work with land for sale. My company recently opened two offices (one through acquistion). The first one specializes in Brainerd, MN real estate and the second specializes in Hayward, WI real estate. We also dabble in a couple of other areas including commercial real estate, Minnesota resorts for sale and Minnesota vacation rentals & Wisconsin vacation rentals. We just added a Minnesota log homes section. So if you're looking for one, you know who to talk to.